Find a Caddie near you! Implement Caddies in field inventory.
The Model 500SS Implement Caddie built by Elk Creek Welding & Steel is a "Super Sized" Model 500 that will handle your largest 3 point implement and also carry a 9 ton load on the caddie! It is equipped with 4 "super single" used truck tires on 10 bolt x 12000 lb. rated implement hubs/spindles and it has a Cat. IV rear hitch to handle the heaviest 3 point implements.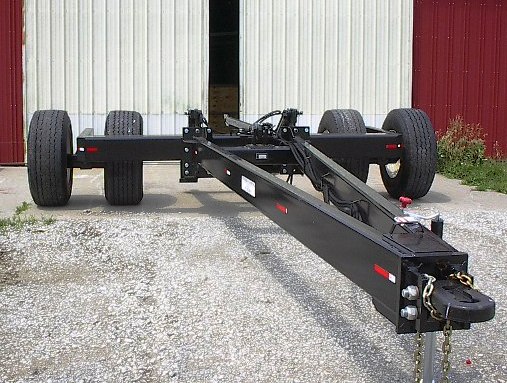 The Model 500SS 3 Point Implement Caddie front and rear views.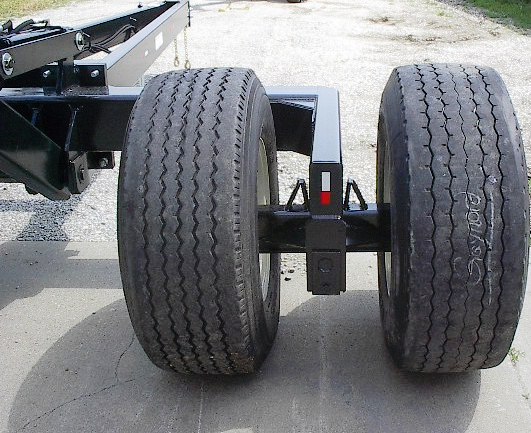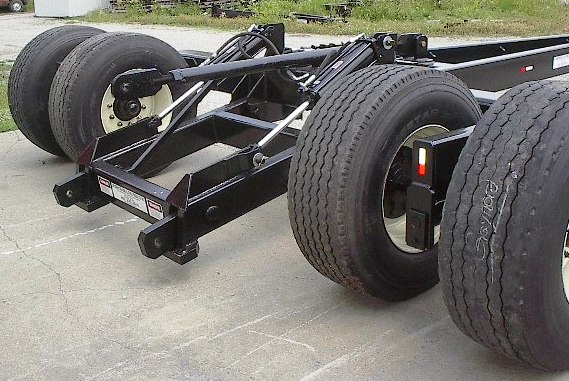 Dual wheels are mounted on a "rocking bolster". Rear hitch is Cat. IV and is equipped with
a depth stop valve and adjustable top link.
Model 500SS caddie specs:
600 hp. rated with 10 inch tubular frame
Cat. IV rear hitch with 18000 lb. lift capacity and depth stop valve
Heavy duty adjustable top link
Cat. V front "Pintle" style front hitch with safety chain and tongue jack
Four "Super Sized" used truck tires on 10 bolt x 12000 lb. hubs/spindles
Duals are mounted on "rocking bolsters" to equalize weight on tires
Price: $ 16,500
Delivery available!!