Bale Feeders Built by ECWASP
Elk Creek Welding & Steel Products, Inc. strives to manufacture the heaviest, most durable feeders available! We believe a small amount of extra expense for quality constructed equipment is the best investment you can make! Why keep buying "throwaway" feeders that only last a few seasons and aren't worth repairing??
The "Turnover" Round Bale Feeders are great hay savers. These Units are welded, one piece construction. The frame is rolled 1 1/2" square tubing and the skirts are 14 ga. steel. One skirt is 26" high for feeding large animals and the other skirt is 22" for feeding smaller animals. The feeder can be turned over to accommodate different sized livestock and to double the life of the feeder. Total height of the feeder is 75" and the top "skirt" keeps feed from being pulled or blown over the top. Users report being able to put the next bale in while a large portion of the first bale is still remaining for extended feeding time! 8' 6" diameter, 650 lbs.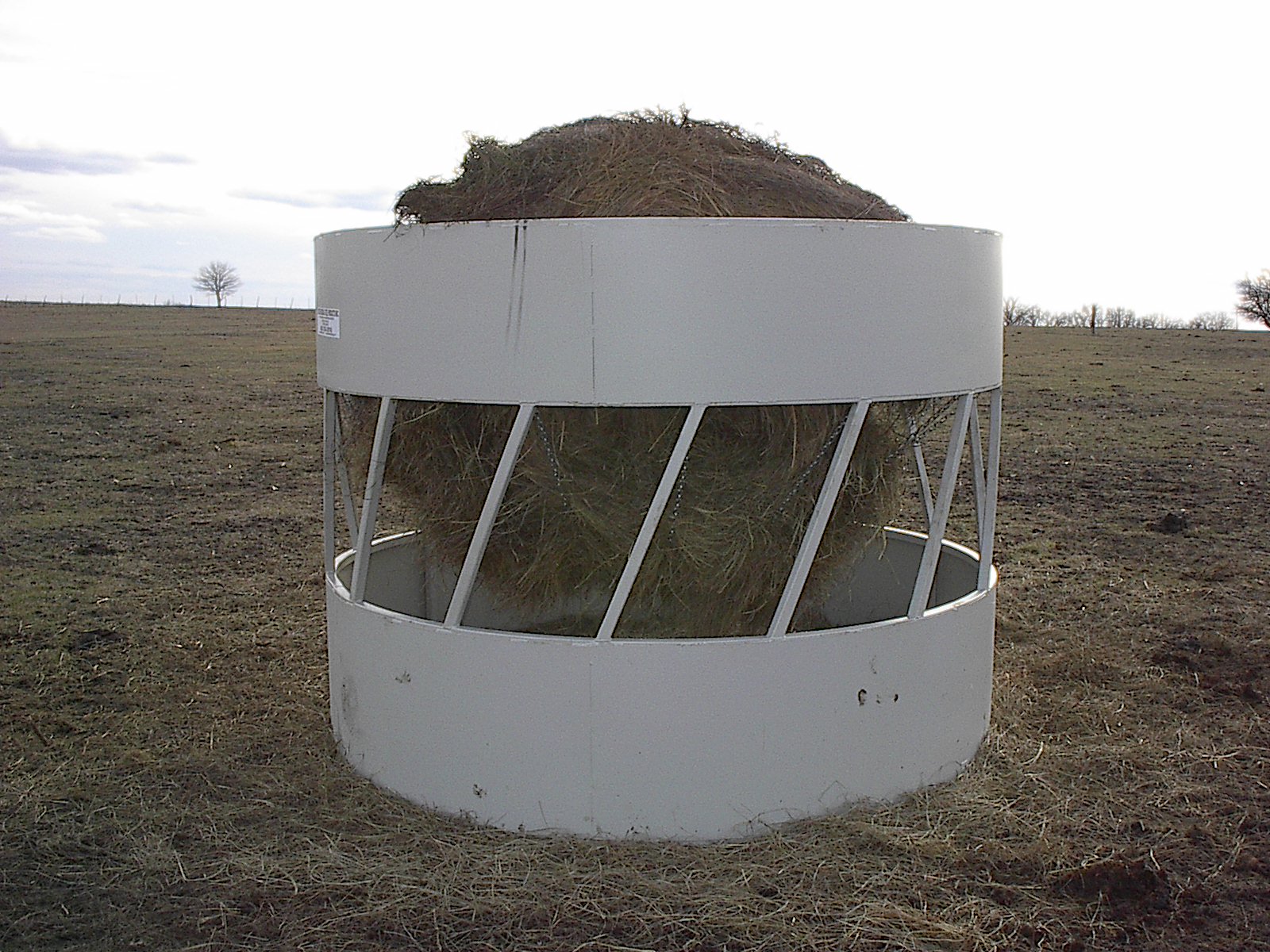 A flexible chain "Sling" to support the bale is available as an option for the Turnover feeder! (pictured) This "sling supports and centers the bale while it is in the feeder and any feed that is torn loose will remain in the feeder!!
"Turnover" round Bale Feeder: $950
Optional "sling": $150
(pictured at left)
The "Bullfallo" Bale Feeder.
(Built for Bulls and or Buffalo)
The "Bullfalo" feeder is just plain heavy duty!!
Main frame: 2"x2"x3/16" square tubing bottom ring, 2"x2"x1/8" upper rings - one piece welded!
Sub frame: 1 1/2"x1 1/2"x11ga. square tubing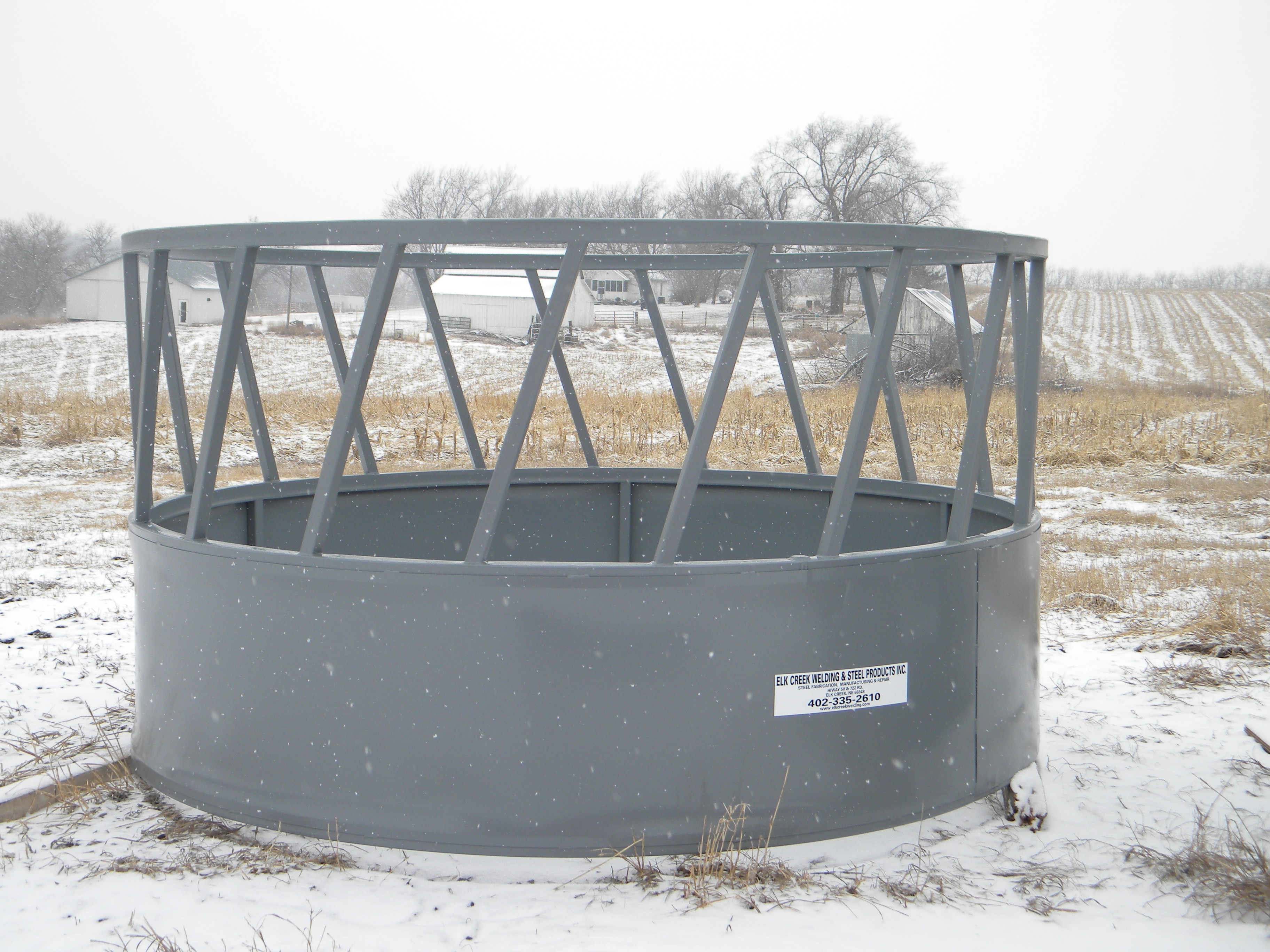 Skirt: 14ga. sheet metal 26" high
Weight: 620 lbs.
Height: 54"
New! 1/2014-feeder now has
more slant bars!
"Bullfallo" round feeder- Price: $ 850 (above right)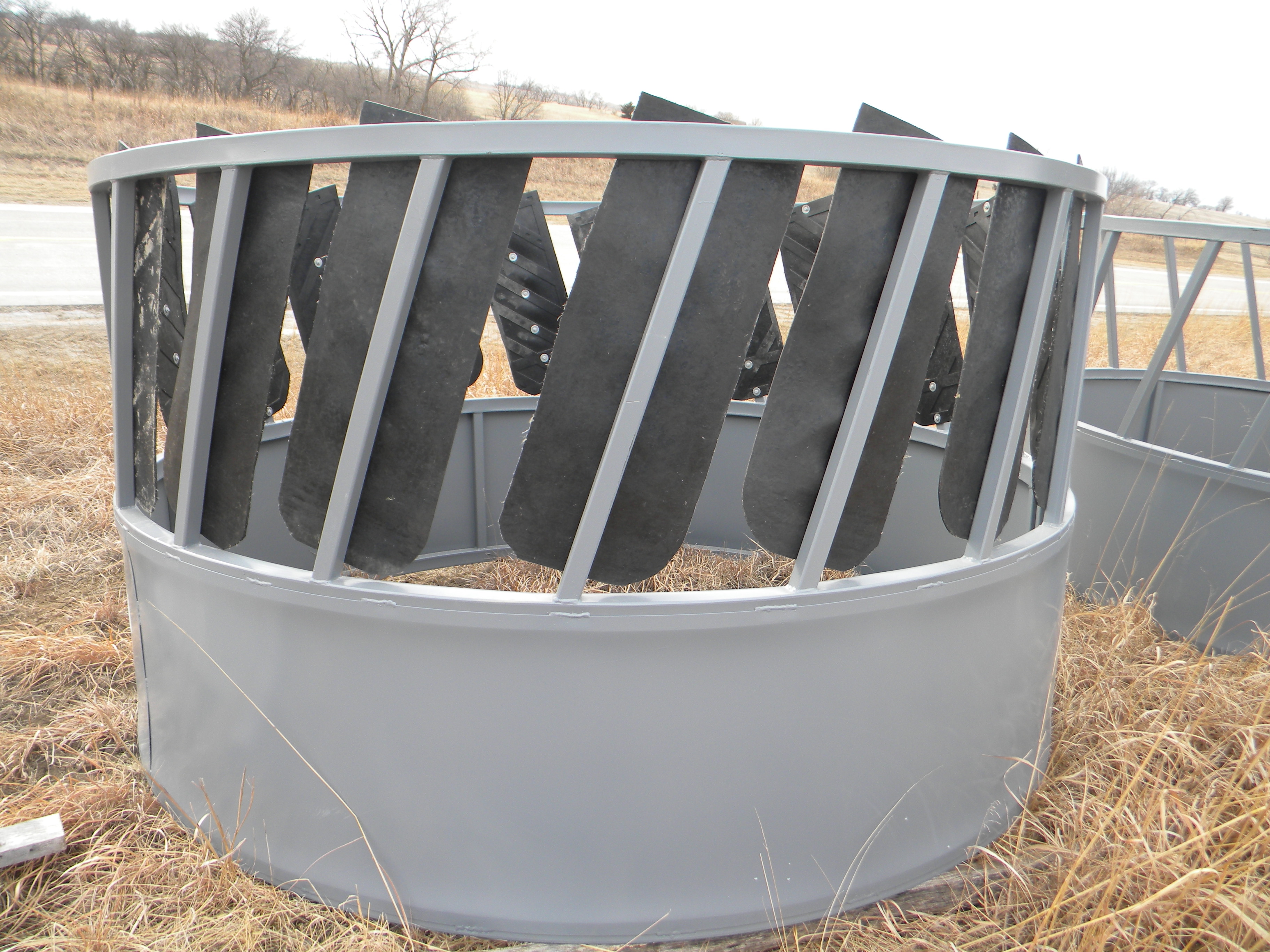 Pictured above is the "Bullfalo" feeder with our optional "Flaps" addition!
Save even more feed! $ 200 Installed!
XH Duty Round Bale feeder for Horses
8' 6" diameter, 2" square tube main frame, 24" high skirt,
open top design. $1100
New From ECWASP: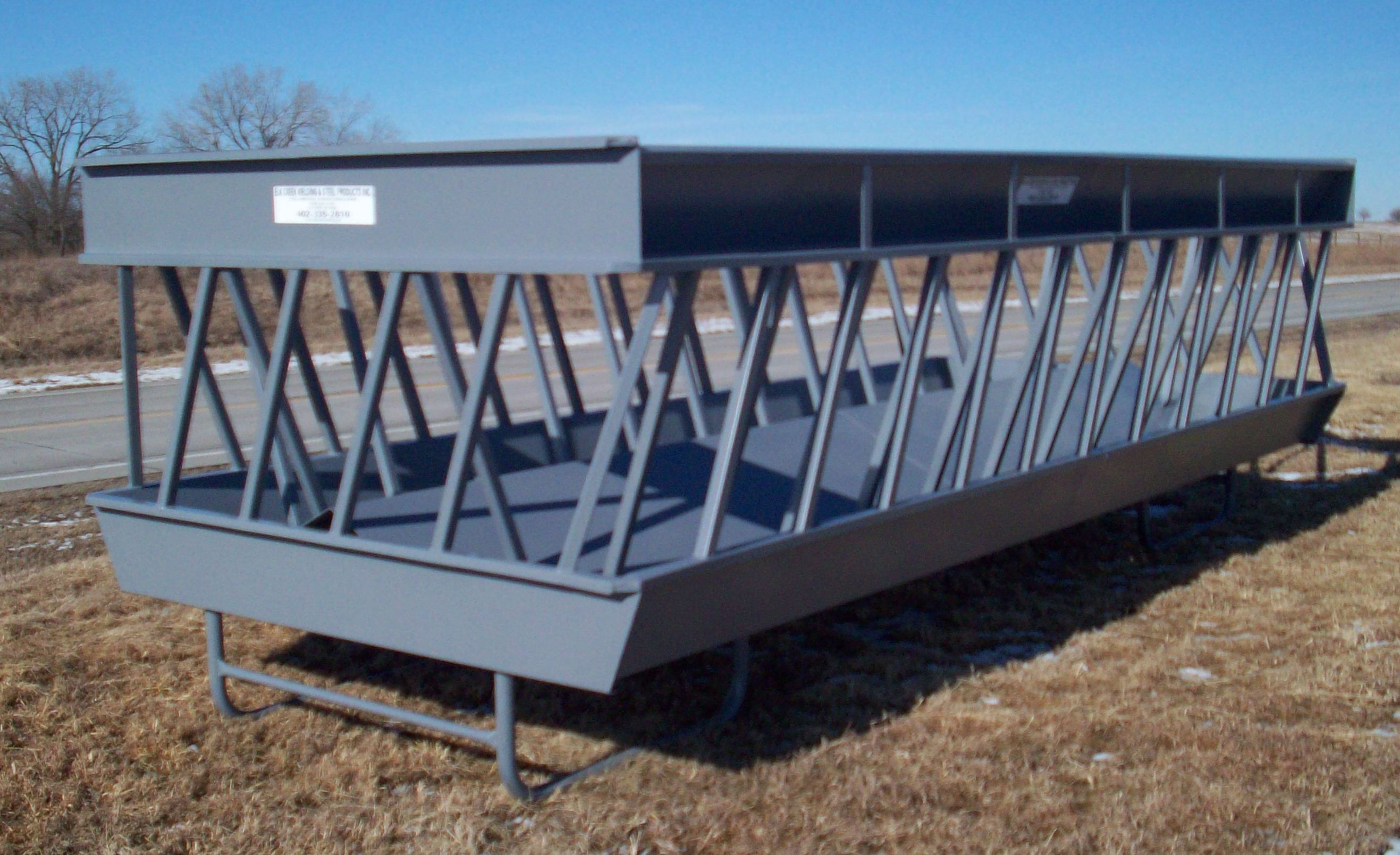 16' Feeder for square and Round Bales:
16' all steel feeder on skids feeds 2 large round or 2-4 large square bales. Will also feed loose hay, ground hay or silage. Slant bars around the feeder discourage animals from pulling out and wasting feed.
Solid panels around the top and and a row of "feed bars" on the inside combined with a sloped solid floor saves your feed! This feeder has a 3" square tube main frame, 12ga. steel floor and sides, and all bars are 1 1/2"x11ga. square tube-a rugged long lasting unit!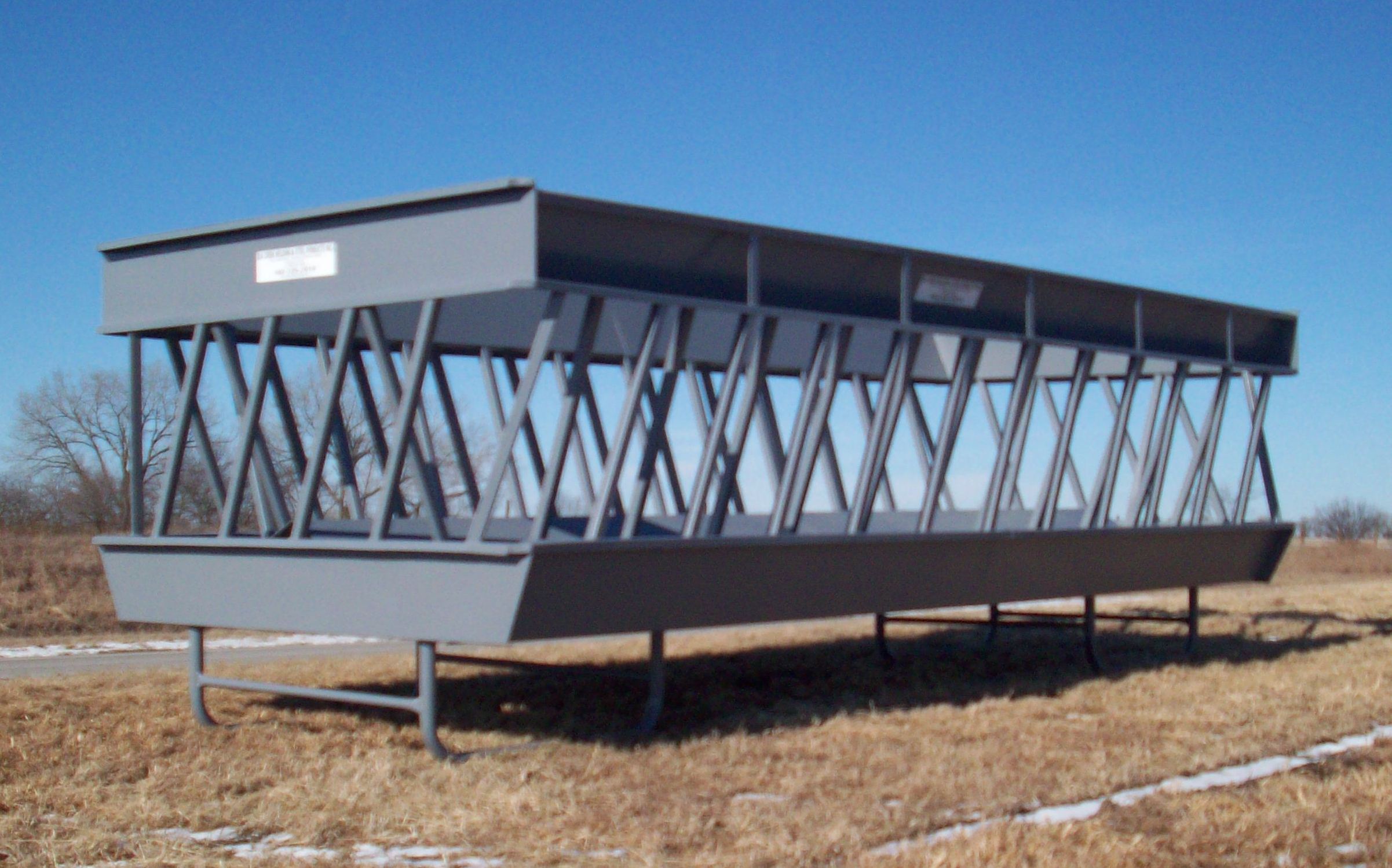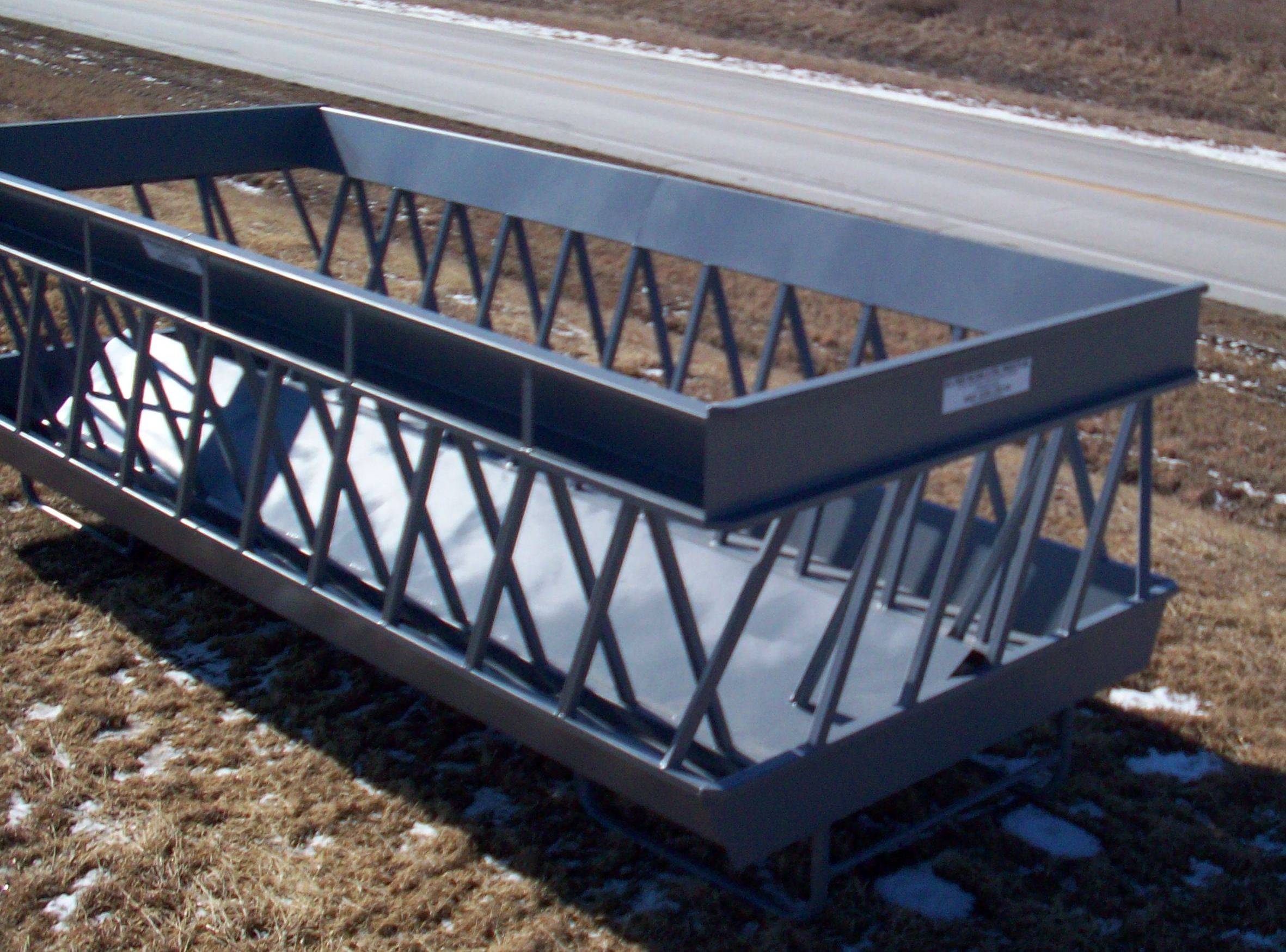 Price: $2950
Bale Feeder for Goats/sheep/calves $900
Overhead design lets smaller animals feed from underneath! Parallel support bars discourage climbing! Rugged one piece construction!!