Portable Livestock Feeders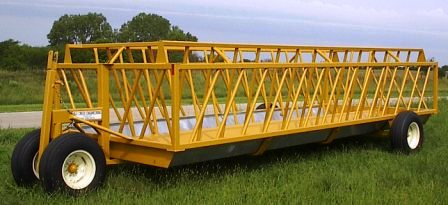 Built by: Elk Creek Welding & Steel Products, Inc
62103 722 Road
Elk Creek, NE 68348
Phone: 402-335-2610
8' x 24' feeder on wheels - weight 3,040 lbs/single rear axle $6500
8' x 32' feeder on wheels weight 4800 lbs. - tandem axle $8500
These feeders are constructed of all new materials including the following: 2 ˝ x 2 ˝ x 3/16 inch square tubing on top and bottom of the manger side and end frame
(other feeders use formed steel for the bottom of the manger). A full length channel rail is used on the bottom of the feed bars (other feeders use "Unibody " construction and actually have no frame). Slant bars in the manger are of schedule 40 1.66 O.D. pipe and are sawed on angle at the weld joint. All frame corners are braced with a reinforcing plate to eliminate cracks from twisting stress. This gives the feeder a frame that is far superior to other feeders that are built lighter.
This design also makes possible the use of removable feed pans. This feature makes cleaning out the feeder much easier. It is also possible to feed with the pans removed. Although the pans are constructed of 14 gauge galvanized steel for longer life than others, they can be easily replaced if needed. The vertical feed bars are of 1.6" O.D. sch. 40 pipe. The center of the feeder is 12 gauge steel and is well braced. The feeders are painted with industrial primer and enamel for corrosion protection. New 8 ply 11Lx15 tires are used on 3,500 lb. hub/spindles with 6 bolt implement rims.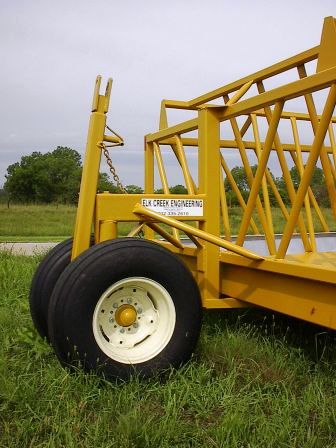 The goose neck is built with heavy box tubing and a wide tricycle front is stable and easy to maneuver. A telescoping tongue makes hookups EASY!
We are sure this feeder will provide it's users with years of service while reducing feed costs day after day. It will feed a variety of feeds. Liners can be easily added to increase capacity of loose hay or silage. The portability of the units and the longer life make these a much better value than "throw-away" feeders. University trials show that this type of feeder could save as much as 30% of your high priced feed.

The new removable pans, higher inside feed rack and stronger frame at a price lower than others, makes the

Elk Creek Welding & Steel Products, Inc. feeder the BEST VALUE!