Elk Creek Welding & Steel Products, Inc.
Manufactures Round Bale Moving Equipment including the following:
3 Point Hitch Mover with prongs that slide under the Bale: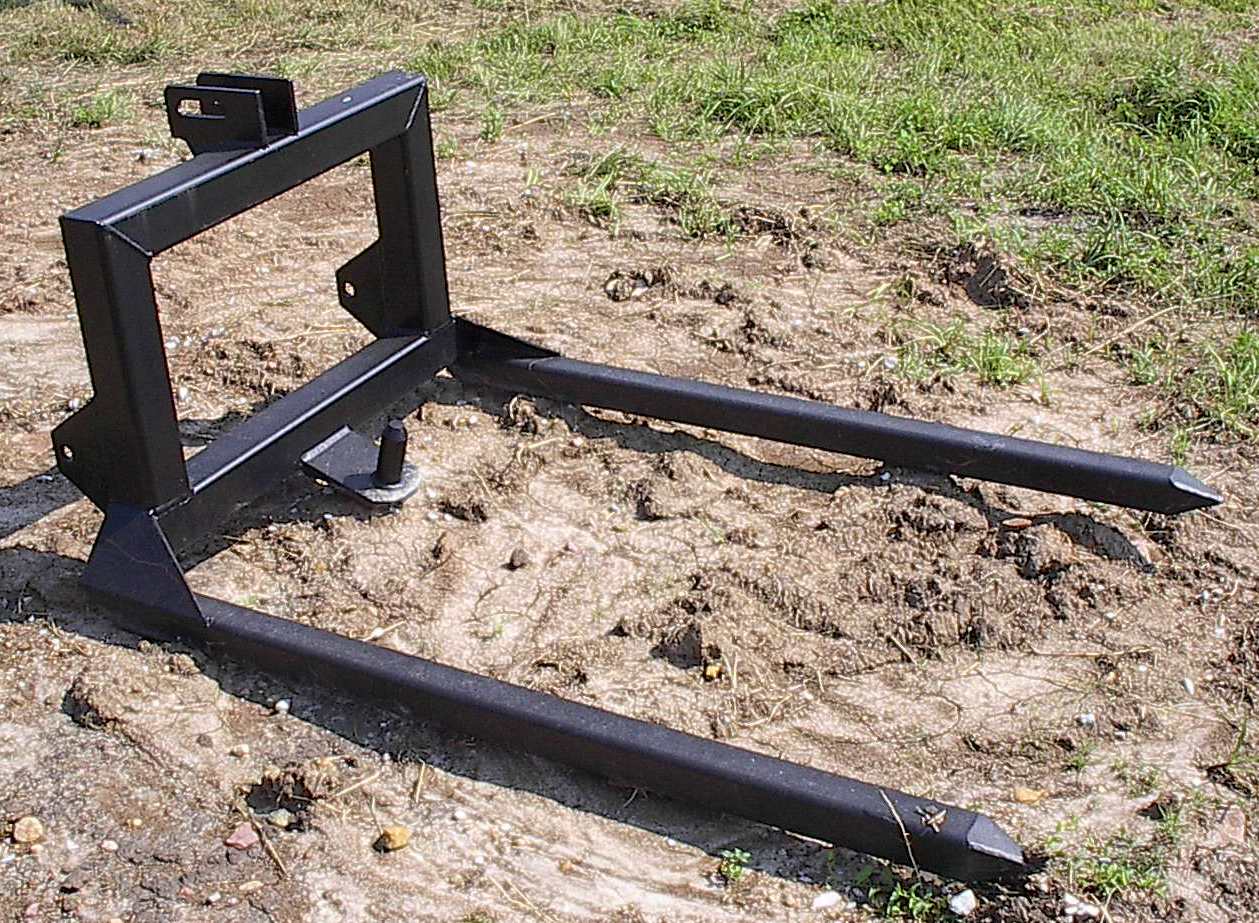 This 3 Point Bale Mover slides under big round bales. It has a Cat. II hitch and the top link hole is slotted to allow the mover to follow the contour of the ground. "Underneath" movers will help pick up bales that may have spoiled bottoms. It is possible to use these movers for other work around the farm - moving feed bunks, large pallets, posts. etc.! The mover pictured is equipped with the optional "Quick Hitch" Pin that allows the operator to hook up to a bale wagon by simply raising the mover up and hooking the "Quick Hitch" hole on the bale wagon. With this option, the operator can load the wagon, then hook up and tow it without leaving the seat!
Elk Creek Welding uses 4" square tubing for the main frame and 3" square tubing for the bale prongs. 1/2" double plates are used for the 3 point pins rather than a single tug pin. This eliminates broken pins!!
Price: $ 650
3 Point Hitch Mover with prongs that "spear" the bale: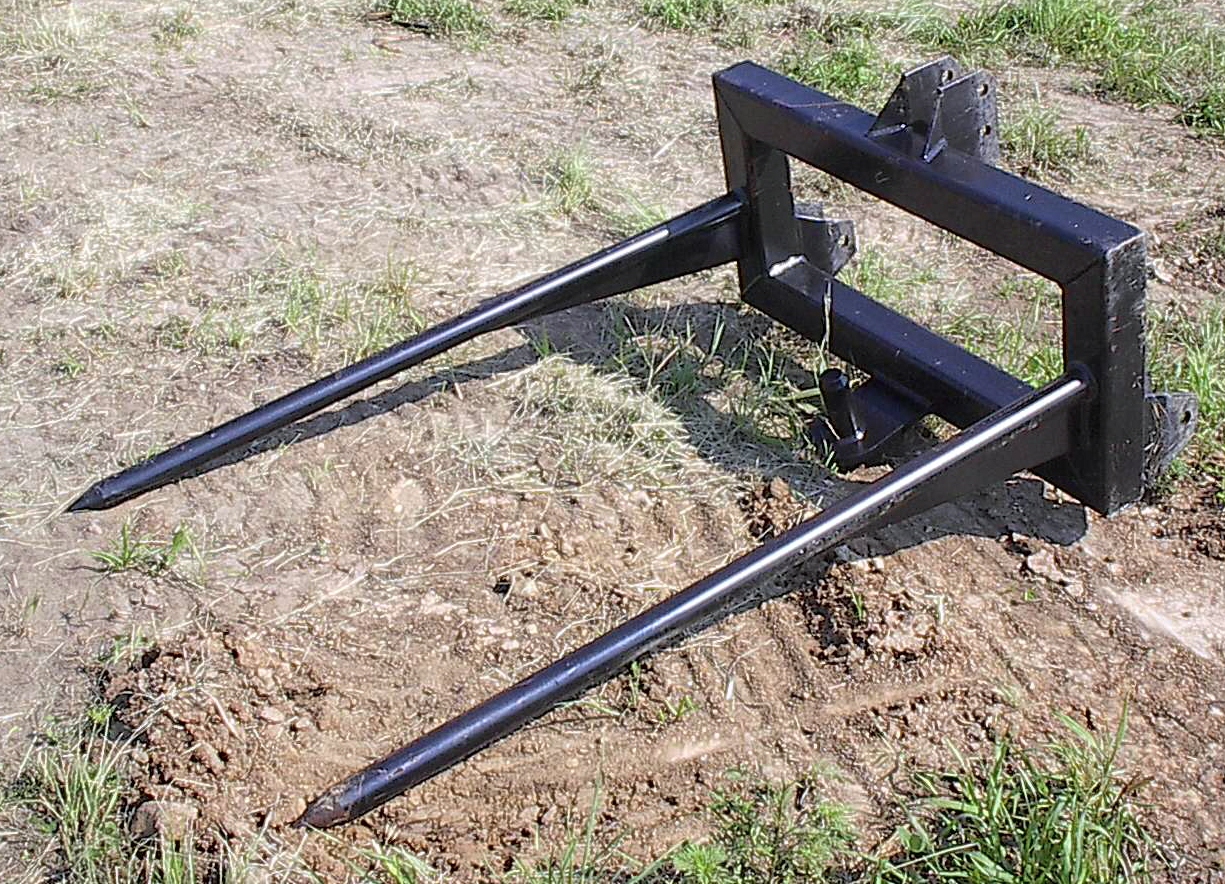 This mover is similar to the "underneath" mover but it has prongs that spear the bale. This design reduces tearing of bale wrap or twine. These movers have become very popular for users with bales that are net wrapped or tied with plastic twine. The frame is constructed with 4" square tubing and the prongs are 2" solid cold rolled shafting braced with plate!
The mover pictured is equipped with the optional "quick hitch" pin. Pins for the 3 Point are included.
Price: $ 650
6 Bale Wagon built by ECWASP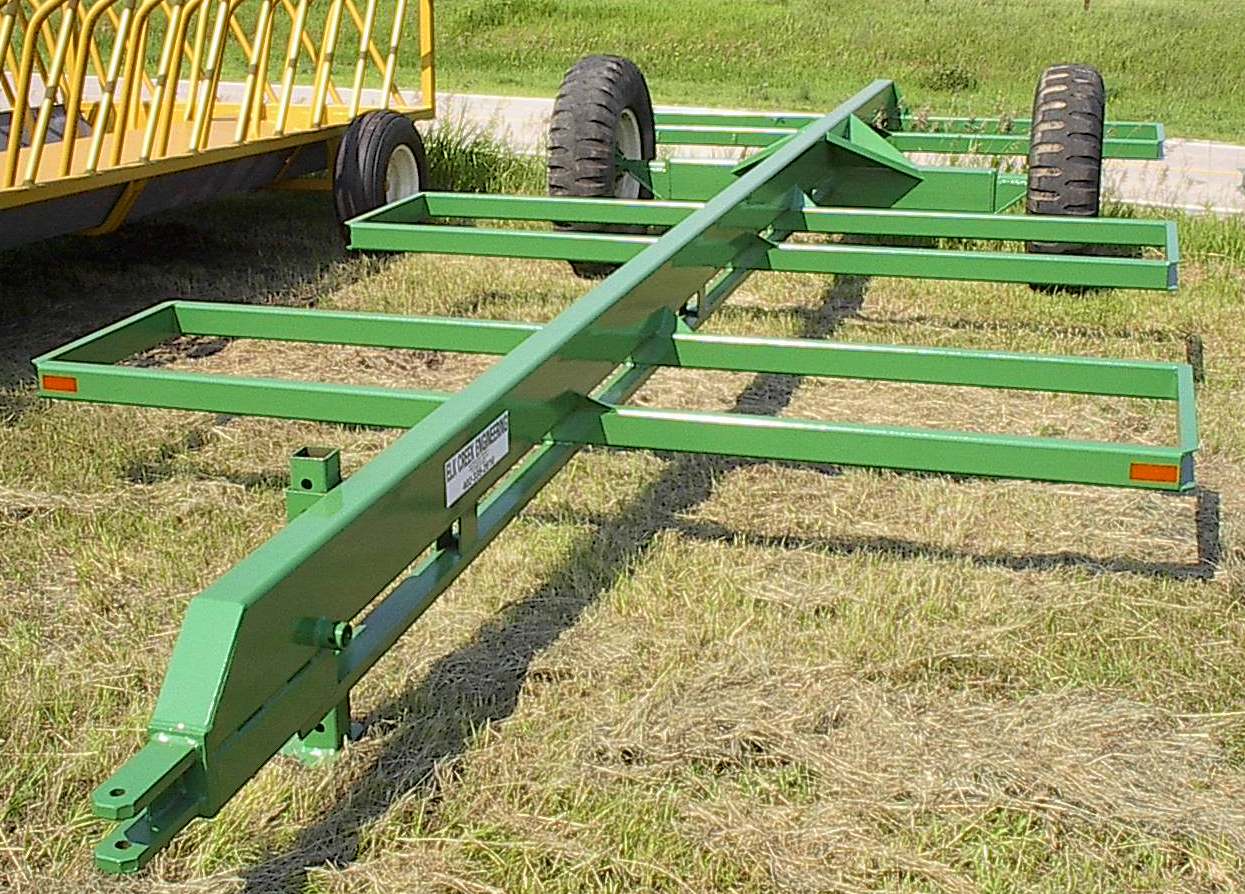 Pictured is the standard 6 bale wagon that Elk Creek Welding has built for many years! These wagons are designed to be loaded/unloaded with a tractor 3 Point bale mover (no front end loader is needed although they can also be used). They are constructed with rectangular tubing and will not twist or sag. The standard drawbar hitch model is pictured and a gooseneck model is also available. Either model can be equipped with the optional "over wheel cradle" that allows two bales to be hauled over the wheels (a high lift mover or front loader is needed to load this cradle). The heavy duty tubular stand for loading and a tongue jack (not pictured) are standard equipment! The wagons have 8 bolt implement wheels and used 20" truck tires. These wagons are intended for off road farm use and are not equipped with brakes or lights. A slow moving emblem is installed on the rear.
Price: 6 bale std. drawbar wagon $
6 bale Gooseneck wagon $
"over wheel" cradle $
quick hitch adapter $ For more information: Call ECWASP 402-335-2610